DIY Solar Geyser
Diy solar geysers provide a great alternative energy solution, which is what many people in South Africa are actively looking for with the constrained power grid & frequent load shedding.
One of the most obvious cheaper energy sources is solar power which, in South Africa, is plentiful & free and can be converted into powering your geyser.
Furthermore, you'll find that your home's geyser is one of the biggest electricity consumers out of all the electric appliances in your house, so by using solar power (instead of electricity) to power this item you will not only reduce overall electricity consumption but will also save you a lot of money.
Therefore living in a sunny country means that converting to solar geyser is a no-brainer – in fact anyone not doing it must be crazy when you consider the potential power & money savings you will realise – not to mention the beauty of not having to be totally dependent on Eskom.
3 Important Questions About Installing a Solar Geyser
How Does a Solar Geyser Work?The energy contained in the sun's rays provides the heating power necessary to heat the water in your geyser.The water is heated up as it circulates through glass tubes or solar panels known as collectors – the heated water is then stored in the geyser for use in the house.
Can the Existing Geyser be Used?Yes your existing geyser can be used but it would have to have a collector (see above) connected to it.It should be noted however, that a solar geyser is designed & manufactured specifically for this purpose as it is better insulated, works more efficiently with solar collectors & has a longer life.
Does it Need to be Installed on the Roof?The decision as to where it needs to be installed will depend on factors such as the pitch of the roof, the type of system that is used and so on.So it is quite possible that the tank can in fact be installed inside your house's roof but the installation would need to be assessed by a solar heating expert.
About Building & Installing Your Solar Geyser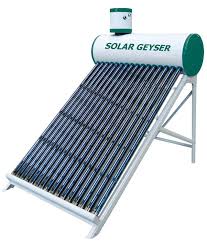 If you don't want to get your solar heated geyser installed professionally, a more expensive option, you will need to embark on the DIY option.
Whilst the pro option is probably a lot easier, it will cost you more money & will not necessarily be a better option than building & installing it yourself.
Furthermore your solar heater can be built with stuff that can be purchased fairly cheaply at your local hardware store.
Another benefit to installing a solar geyser is that currently, an average of 20% of the money spent on a solar geyser is returned by Eskom to the purchaser, according to spokesman Andrew Etzinger, in the way of a rebate.
So this additional saving is another signifigant incentive to get your solar water geyser installed – a saving in electricity consumption as well as an Eskom rebate, you can't lose.